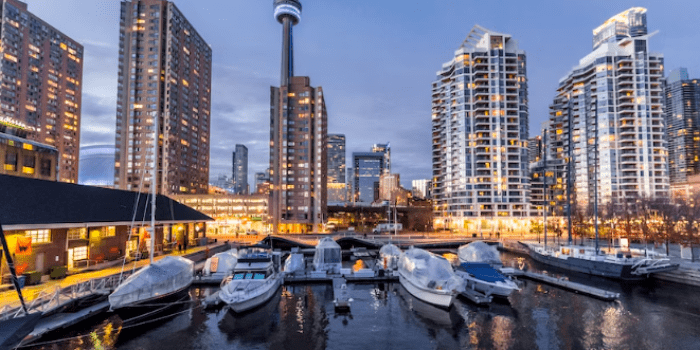 Canada is a vast and beautiful country with a plethora of tourist attractions that cater to all kinds of travelers. From breathtaking natural wonders to historic landmarks, there is something for everyone to enjoy. In this article, we will explore 10 tourist attractions in Canada that are worth a visit. So pack your bags and get ready to be amazed!
10 Tourist Attractions in Canada
1. Niagara Falls
A Natural Wonder in Ontario
Niagara Falls is one of the most famous tourist attractions in Canada, and for good reason. Located in Ontario, these magnificent waterfalls attract millions of visitors each year. The sheer power and beauty of the falls are awe-inspiring, and you can get up close by taking a boat ride on the Maid of the Mist. Don't forget to capture the moment with a photo at the iconic viewpoint at Table Rock!
2. Banff National Park
Majestic Rocky Mountains in Alberta
For nature enthusiasts, Banff National Park is a must-visit destination in Canada. Located in the province of Alberta, this park is known for its stunning mountain landscapes, crystal-clear lakes, and abundant wildlife. Whether you want to go hiking, skiing, or simply immerse yourself in the tranquil beauty of the Canadian Rockies, Banff has it all. Be sure to visit iconic spots like Lake Louise and Moraine Lake for picture-perfect views.
3. CN Tower
Iconic Landmark in Toronto
No visit to Canada is complete without a trip to the CN Tower in Toronto. This iconic landmark stands tall at 553 meters, offering panoramic views of the city and beyond. Take a ride in the glass elevator to the observation deck, where you can test your bravery by stepping on the glass floor. For the adrenaline junkies, there's even a thrilling edge walk experience where you can walk on the edge of the tower!
4. Old Quebec
Charming Historic District in Quebec City
Step back in time as you wander through the cobblestone streets of Old Quebec in Quebec City. This UNESCO World Heritage Site is a treasure trove of history and culture. Admire the well-preserved 17th-century architecture, visit the famous Chateau Frontenac, and indulge in delicious French-inspired cuisine at one of the many charming cafes and restaurants. Don't forget to explore the city walls and take a leisurely stroll along the picturesque streets.
5. Prince Edward Island
Idyllic Island Retreat
If you're looking for a peaceful and picturesque getaway, Prince Edward Island is the perfect destination. Known for its red sand beaches, quaint villages, and rolling green hills, this island province offers a laid-back atmosphere that makes it ideal for relaxation. Visit the enchanting Green Gables House, explore the stunning coastline, and savor the famous PEI lobster. It's a little slice of paradise!
6. Vancouver Island
Natural Beauty on the West Coast
Vancouver Island, located off the coast of British Columbia, is a paradise for nature lovers. From rugged coastlines to ancient rainforests, this island boasts an abundance of natural beauty. Take a leisurely drive along the Pacific Rim Highway, go whale watching in Victoria, or hike through the Pacific Rim National Park Reserve. Don't miss the chance to visit the charming city of Victoria and explore the stunning Butchart Gardens.
7. Rocky Mountaineer
A Scenic Train Journey
Embark on a once-in-a-lifetime train journey through the Canadian Rockies aboard the Rocky Mountaineer. This iconic train offers breathtaking views, gourmet cuisine, and luxurious comfort as you traverse through some of the most stunning landscapes in Canada. Sit back, relax, and immerse yourself in the beauty of the mountains, glaciers, and wildlife. It's an experience you won't soon forget.
8. Churchill, Manitoba
Polar Bear Capital of the World
For wildlife enthusiasts, Churchill in Manitoba is a must-visit destination. Known as the polar bear capital of the world, this remote town offers a unique opportunity to see these magnificent creatures up close. Take a guided tour and witness the polar bears in their natural habitat as they roam the tundra. If you're lucky, you might even catch a glimpse of the spectacular Northern Lights dancing across the sky.
9. Parliament Hill
Iconic Landmark in Ottawa
Located in the heart of Canada's capital city, Parliament Hill is a symbol of Canadian democracy and history. Take a guided tour of the Parliament buildings and learn about the country's political system. Be sure to visit during the summer months to witness the Changing of the Guard ceremony, a colorful pageantry that attracts visitors from around the world. The stunning architecture and beautiful grounds make it a must-visit attraction.
10. Bay of Fundy
Natural Wonder in New Brunswick
Last but not least, the Bay of Fundy in New Brunswick is a natural wonder that should not be missed. Known for having the highest tides in the world, this bay offers a unique and mesmerizing experience. Explore the rugged coastline, walk on the ocean floor during low tide, and witness the dramatic tidal bore phenomenon. It's a truly unforgettable sight that showcases the power and beauty of nature.
In conclusion, Canada is a country that offers a diverse range of tourist attractions, from natural wonders to historic landmarks. Whether you're an adventure seeker, a nature enthusiast, or a history buff, there's something for everyone to enjoy in this beautiful country. So plan your trip, and get ready to explore the 10 tourist attractions in Canada that will leave you with lasting memories.

JogjaPost Jogja News Today. Presenting a variety of interesting information both local Jogja, national and even international. Follow us on Google News and other social media.