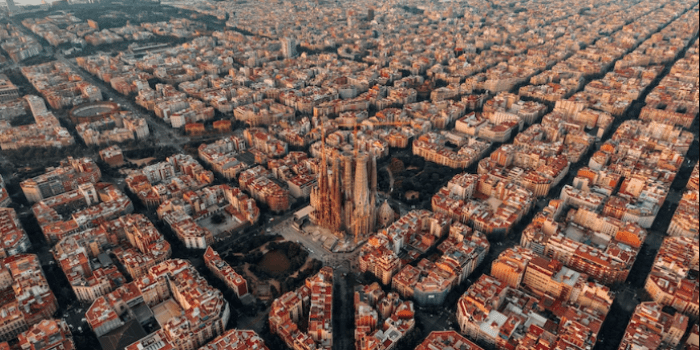 Barcelona, the capital of Catalonia in Spain, is a vibrant and cosmopolitan city known for its rich history, stunning architecture, and lively culture. With so much to see and do, it can be overwhelming to decide which tourist attractions to visit. To help you plan your trip, here are 10 must-see tourist attractions in Barcelona.
10 Tourist Attractions in Barcelona
1. Sagrada Familia
A Masterpiece of Antoni Gaudí's Imagination
One of the most iconic landmarks in Barcelona, the Sagrada Familia is a masterpiece that has been under construction for over a century. Designed by the renowned architect Antoni Gaudí, this basilica combines Gothic and Art Nouveau styles, creating a unique and awe-inspiring structure. Don't miss the breathtaking views from the towers!
2. Park Güell
An Artistic Oasis
Another gem created by Gaudí, Park Güell is a whimsical park filled with colorful mosaics, twisting pathways, and unique architectural elements. This UNESCO World Heritage Site offers stunning views of the city and is a perfect spot for a leisurely stroll or a picnic.
3. Las Ramblas
The Heartbeat of Barcelona
No visit to Barcelona would be complete without a walk along Las Ramblas. This bustling pedestrian street is lined with cafes, shops, street performers, and flower stalls. Immerse yourself in the vibrant atmosphere as you explore the various sections of Las Ramblas, including the famous La Boqueria Market.
4. Gothic Quarter
Stepping Back in Time
Step back in time as you wander through the narrow medieval streets of the Gothic Quarter. This historic neighborhood is home to stunning Gothic architecture, charming squares, and cozy restaurants. Discover hidden gems, such as the Barcelona Cathedral and Plaça Reial, as you soak in the rich history and romantic ambiance.
5. Casa Batlló
The House of Bones
Casa Batlló is another architectural masterpiece created by Gaudí. Known as the "House of Bones" due to its skeletal appearance, this building is a true work of art. Explore the imaginative interior and admire the colorful mosaic facade that seems to come to life as the light changes throughout the day.
6. Camp Nou
A Football Fan's Paradise
For football enthusiasts, a visit to Camp Nou is a must. This legendary stadium is the home of FC Barcelona and offers an immersive experience for fans. Take a tour of the stadium, visit the museum, and feel the excitement as you stand on the pitch where footballing history has been made.
7. Montjuïc
A Hill of History
Rising above the city, Montjuïc is a hill filled with historical sites and stunning views. Visit the Montjuïc Castle, stroll through the beautiful gardens of the Montjuïc Park, and catch a breathtaking sunset from the Montjuïc Magic Fountain.
8. Picasso Museum
A Journey Through Picasso's Artistic Evolution
Art lovers will appreciate the Picasso Museum, which houses an extensive collection of works by the legendary artist Pablo Picasso. From his early sketches to his famous paintings, this museum offers a fascinating journey through Picasso's artistic evolution.
9. Casa Milà
The Stone Quarry
Casa Milà, also known as La Pedrera or "The Stone Quarry," is another remarkable example of Gaudí's architectural genius. Explore the unconventional design, climb to the rooftop to see the famous chimneys, and learn about the unique construction techniques used in this extraordinary building.
10. Magic Montjuïc
A Spectacular Light and Music Show
End your visit to Barcelona with a magical experience at the Montjuïc Magic Fountain. This stunning fountain offers a nightly display of water, light, and music, creating a mesmerizing spectacle. Relax on the steps surrounding the fountain and enjoy this enchanting performance.
Barcelona truly has something for everyone, whether you're seeking architectural marvels, cultural experiences, or simply a lively atmosphere. These 10 tourist attractions will give you a taste of the city's unique charm and leave you wanting to explore even more. So pack your bags, immerse yourself in the beauty of Barcelona, and create memories that will last a lifetime.

JogjaPost Jogja News Today. Presenting a variety of interesting information both local Jogja, national and even international. Follow us on Google News and other social media.