There is one beach which is quite famous in Yogyakrta. His name is Parangtritis Beach. This beach save a variety of uniqueness, ranging from myths, history, rituals to ubo rampe Parangtritis Beach tours such as kulier and other facilities.
Well, presumably less complete if you want to write Jogja tour but have not written Parangtritis Beach. Therefore, on this occasion I will thoroughly review one of the beach icons in Yogyakarta – Parangtritis Beach.
History of Parangtritis Beach
Every place in Jogja almost all have history. No exception with Parangtritis Beach. It is said that once there was someone who was undergoing escape from Majapahit Kingdom. He was named Dipokusumo.
Dipokusumo ran to the south and found a quiet beach, quiet and quiet. He began to meditate.
In the midst of his hermitage, he noticed there was a rock that slowly but surely began to shed water down. From there Dipokusumo named the beach with the name Parangtrritis Beach. 'Parang' means coral, while 'tritis' means dripping.
The second version of the history of Parangtritis beach is closely related to Queen Nyi Roro Kidul. The story, in the era of Majapahit Kingdom, there is a woman named Ratna Suwida. He intends to meditate with the goal of seeking knowledge of Java and the South Coast.
In the midst of the solemnity of the hermitage, Ratna Suwida meets one of the men known as coming from the Pajajaran Kingdom. Apparently, the man is a niece Ratna Suwida own.
Because beauty Ratna Suwida, the man has the intention to marry Ratna Suwida, but Ratna Suwida rejected the latitude still have blood relation.
Ratna Suwida then promised, when he could master the land of Java, he will marry with all the descendants of the man.
It is said that since then the Javanese Kings married Nyi Roro Kidul. And according to the story, the legend is the beginning of the Yogyakarta Palace has a relationship with Queen Nyi Roro Kidul.
The Most Famous Myth in Parangtritis Beach
If you ever go to Parangtrtis Beach, maybe you will hear some myths are quite familiar, one of which every visitor who came forbidden to use green clothes.
That said, the story there is a queen who loves the color green, she is Ratu Nyi Roro Kidul. Because Nyi Roro Kidul likes the green color, whatever is in the coastal area he will take. Including one of the tourists who wear green clothes.
Myth, Nyi Roro Kidul will take people who wear green clothes and make it as a servant in the South Beach Kingdom. Another term, if visitors of tourists using green clothes, he will drown taken Queen Nyi Roro Kidul.
However, do you know about the myth? According to the caretaker in Paragtritis Beach, the intended do not have visitors who wear green clothes because the color of sea water in Parangtritis Beach is also greenish.
Actually the ban on the use of green clothes is used to anticipate where when things go wrong. When visitors are dragged wave currents, but wearing green clothes, TEAM SAR will find it difficult to find victims.
The difficulty is one of them because the color of clothes disguised with sea water so that when something is not desired, difficult to be traced.
So, for those of you who have heard the story above, the story is just a myth. Simply to safeguard the safety of tourists who culminate to Parangtritis Beach.
Parangtritis Beach Route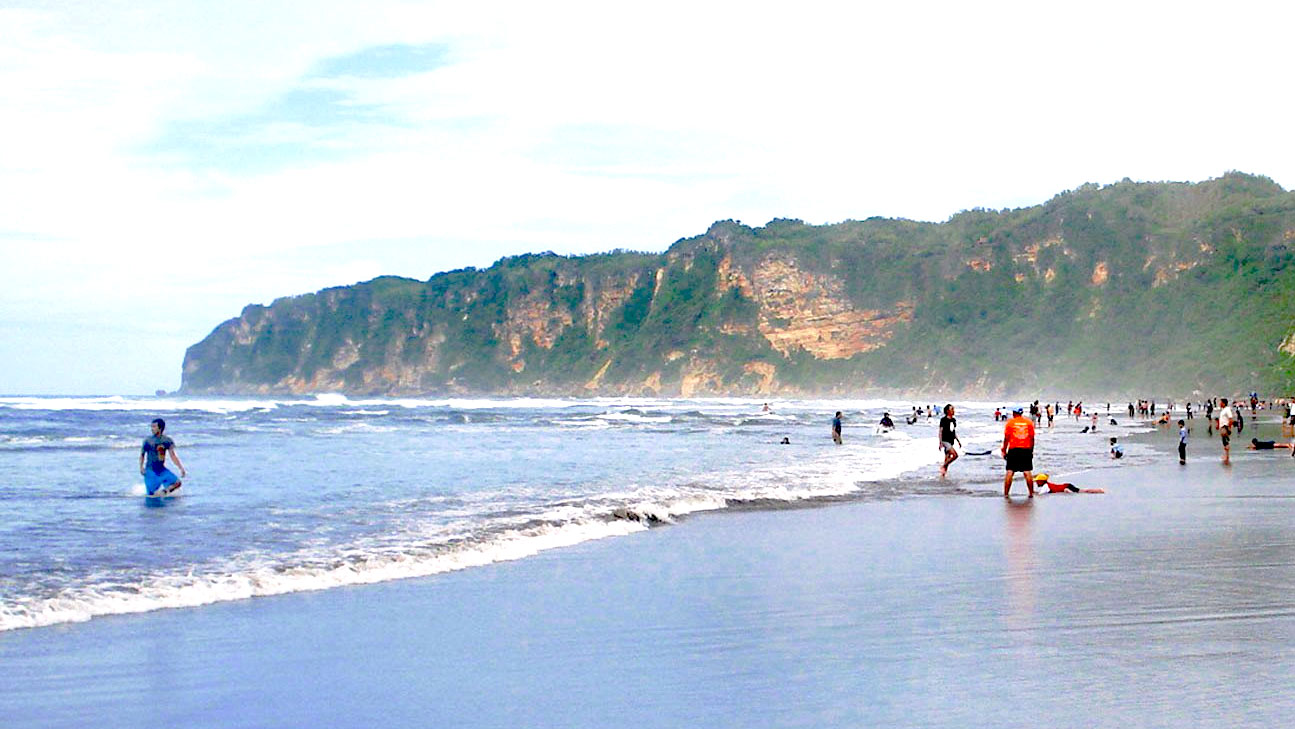 Actually quite easy to get to Parangtritis Beach. There are 2 paths that you can pass, if you are from Jogja City, you can go through Imogiri West Road.
Through West Imogiri Road, you can go straight to the South. Just go south, you will meet at TPR Pantai Parangtritis. Straight away about 1 Km, you will soon arrive. West Imogiri Road Route is the preferred route for you who want to go by road.
The 2nd route you can take from Jogja City, you can take the direction to Terminal Giwangan. Arriving at the intersection of Giwangan Terminal, take direction to South through East Imogiri road.
Straight through the village of Kebon Agung, then still straight south through Silk Kretek. After Ketek Siluk, take the right turn and follow the asphalt road. Through this route, you will pass a path that sometimes goes up and down sometimes.
Along the way, you will see a lot of rice fields are still wide. You can also see the natural atmosphere of the village. Untang menthok in T-junction, take to the left and straight up to TPR. Arrive at TPR, you are straight and you will soon reach Parangtritis Beach.
Address Parangtritis Beach itself is on Jl. Parangtritis Km. 28 Yogyakarta.
Parangtritis Beach; The Icon of Jogja Beach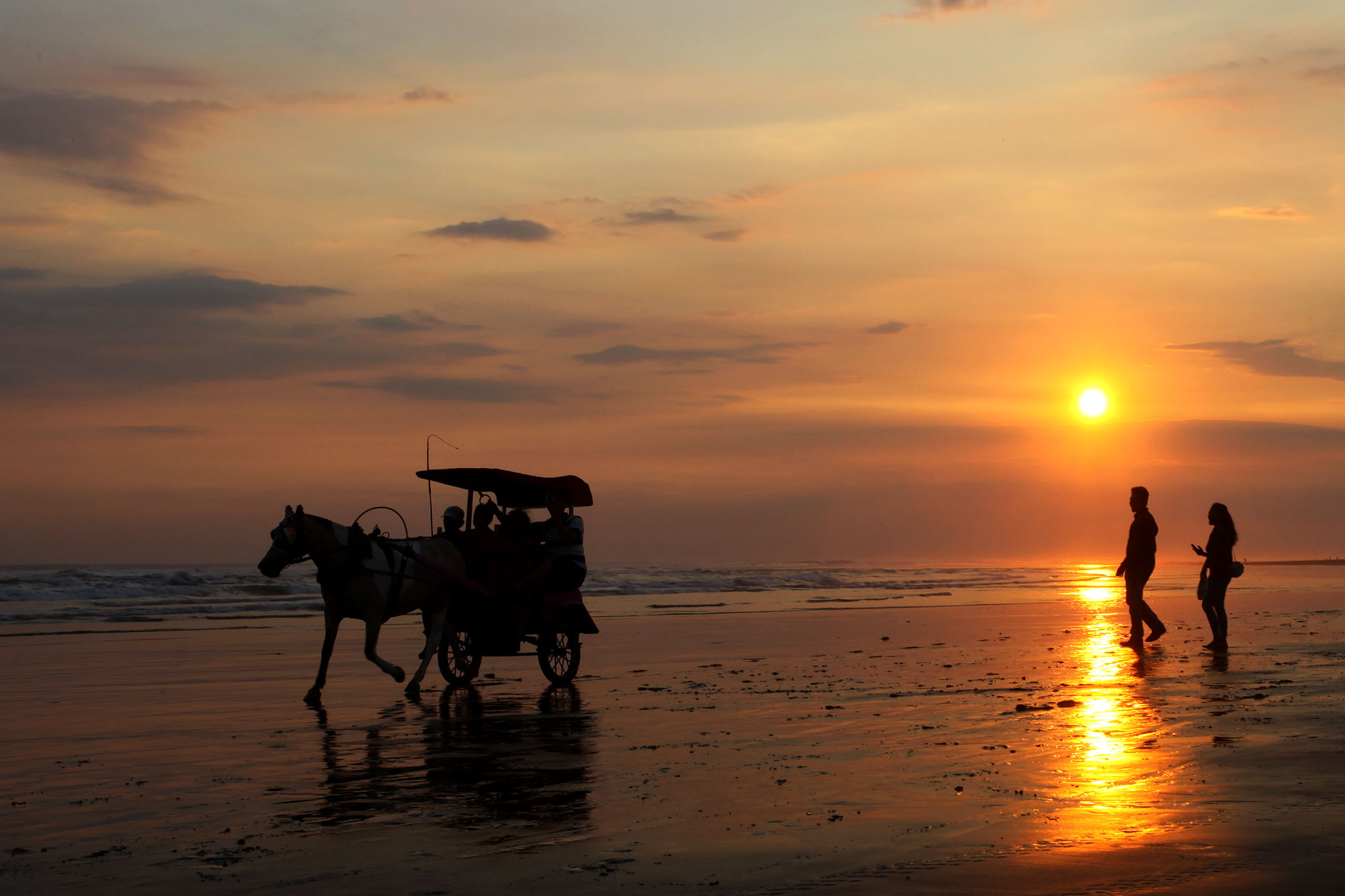 When calling the beach Jogja, yes the answer Parangtritis Beach. On a typical day, the beach is still crowded, especially before the holidays, mcet and beach roads will be full of tourists.
Especially if after Eid, visitors in Parangtritis Beach can reach thousands of visitors both from Jogja and outside the region. This is because Parangtritis Beach has its own charm.
1. Best Sunset
If you want to see a beautiful sunset, you can visit Parangtritis Beach. It's good you come early so you can climb up the cliff to see the beach to its limit. You can also take photos of sunset and immortalize it.
2. Rituals at Parangtritis Beach
If you often come to Parangtritis Beach, you may also be able to witness the cultural rituals in Parangtritis Beach. If not mistaken, usually done every new year or coincide with the historic days of Jogja.
3. Clean and Large Sand
Parangtritis beach has a wide and clean sand beach. No wonder if every year visitors this Parangtritis Beach can increase. In addition to playing sand, you can also play ball. Sand in Prangtritis not so steep so suitable for playing ball.
Vacation Tips to Parangtritis Beach
If you are going to vacation in Parangtritis, there are some tips. First, with regard to your departure, when you leave for a day off, come in the morning. This can prevent you from experiencing congestion.
If you want to stay, you can also make reservations first to get to. Yes, visitors in Parangtritis from year to year increase, so needed dexterity.
When you take a child, keep everything in your watch. Accompany all your children when playing sea water, because the waves at Parangtritis beach including beaches that have big waves.

JogjaPost Jogja News Today. Presenting a variety of interesting information both local Jogja, national and even international. Follow us on Google News and other social media.