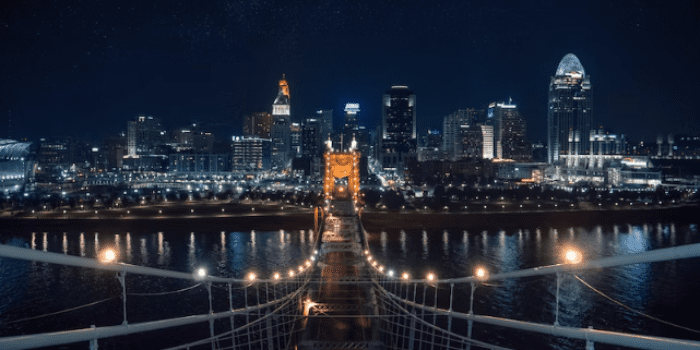 Cincinnati, located on the Ohio River in southwestern Ohio, is a vibrant city known for its rich history, stunning architecture, and a wide array of attractions. Whether visiting for business or pleasure, finding the perfect place to stay is crucial. Fortunately, Cincinnati boasts a diverse selection of top-notch hotels, each offering unique amenities and experiences. In this article, we will explore the 10 best hotels in Cincinnati, ensuring your visit to the Queen City is nothing short of extraordinary.
10 Best Hotels In Cincinnati
1. The Cincinnatian Hotel
The Cincinnatian Hotel, located in the heart of downtown, is a historic landmark that exudes elegance and luxury. With its beautifully appointed rooms, attentive staff, and world-class amenities, it is no wonder that the Cincinnatian Hotel is consistently ranked among the best in the city. From its upscale restaurant, The Palace, to its rejuvenating spa, this hotel offers a truly unforgettable experience.
2. 21c Museum Hotel Cincinnati
For those looking for a hotel that seamlessly combines art and luxury, the 21c Museum Hotel Cincinnati is a perfect choice. This boutique hotel features contemporary art installations throughout its premises, making it a true haven for art enthusiasts. The spacious rooms, curated galleries, and award-winning restaurant, Metropole, make 21c Museum Hotel a unique and memorable destination.
3. The Westin Cincinnati
Situated in the heart of the city's central business district, The Westin Cincinnati offers convenient access to major attractions and entertainment venues. This modern hotel boasts stylish and comfortable rooms, state-of-the-art fitness facilities, and an outdoor rooftop pool with stunning city views. With its prime location and top-notch amenities, The Westin Cincinnati is an excellent option for both business and leisure travelers.
4. Hilton Cincinnati Netherland Plaza
Listed on the National Register of Historic Places, the Hilton Cincinnati Netherland Plaza is a true architectural gem. This meticulously restored hotel features stunning French Art Deco design, with intricate details and elegant touches throughout. Guests can enjoy exquisite dining options, such as Orchids at Palm Court, which has been recognized as one of the best restaurants in the city. With its classic charm and top-rated service, Hilton Cincinnati Netherland Plaza guarantees a memorable stay.
5. The Phelps
Located in the heart of downtown Cincinnati, The Phelps offers a boutique hotel experience like no other. With its stylish and modern design, spacious rooms, and personalized service, this hotel provides a perfect blend of comfort and sophistication. Guests can enjoy breathtaking views of the city from the rooftop terrace or indulge in local cuisine at the intimate restaurant, The Eagle OTR. The Phelps is a hidden gem that will make your stay in Cincinnati truly unforgettable.
6. Renaissance Cincinnati Downtown Hotel
Nestled in a beautifully restored historic building, the Renaissance Cincinnati Downtown Hotel seamlessly blends old-world charm with modern amenities. The elegant rooms, well-appointed event spaces, and rooftop bar with panoramic views of the city make this hotel a popular choice for both leisure and business travelers. With its prime location and impeccable service, Renaissance Cincinnati Downtown Hotel offers a refined and memorable stay.
7. AC Hotel Cincinnati at The Banks
Located in the vibrant Banks entertainment district, AC Hotel Cincinnati offers a unique and contemporary experience. This European-inspired hotel features sleek and minimalist design, comfortable rooms, and a rooftop bar overlooking the Ohio River. Visitors can explore the nearby restaurants, bars, and sports stadiums, ensuring an exciting and lively stay in Cincinnati.
8. Residence Inn Cincinnati Downtown/The Phelps
Part of the Marriott family, Residence Inn Cincinnati Downtown/The Phelps offers spacious suites with fully equipped kitchens, perfect for extended stays or families. Situated in the former Phelps Building, this hotel combines historic charm with modern comforts. Guests can enjoy complimentary breakfast, a fitness center, and a rooftop terrace with stunning views of the city skyline. Residence Inn provides a home away from home experience in the heart of Cincinnati.
9. Embassy Suites by Hilton Cincinnati RiverCenter
Conveniently located across the Ohio River in Covington, Kentucky, Embassy Suites by Hilton Cincinnati RiverCenter offers stunning views of downtown Cincinnati. This all-suite hotel features spacious rooms, complimentary cooked-to-order breakfast, and an evening reception with light snacks and beverages. With its proximity to major attractions and comfortable accommodations, Embassy Suites provides a relaxing and enjoyable stay.
10. The Summit, A Dolce Hotel
Situated in the charming suburb of Madisonville, The Summit offers a peaceful retreat just a short drive from downtown Cincinnati. This modern boutique hotel features stylish rooms, a rooftop garden, and an on-site farm-to-table restaurant, Overlook Kitchen + Bar. With its serene atmosphere and emphasis on sustainability, The Summit provides a unique and eco-friendly experience for guests.
In conclusion, Cincinnati offers a plethora of exceptional hotels that cater to various budgets and preferences. Whether you seek timeless elegance, contemporary art, or modern comfort, the 10 best hotels in Cincinnati provide an unparalleled experience. Embrace the charm of this remarkable city and make your stay truly unforgettable.

JogjaPost Jogja News Today. Presenting a variety of interesting information both local Jogja, national and even international. Follow us on Google News and other social media.