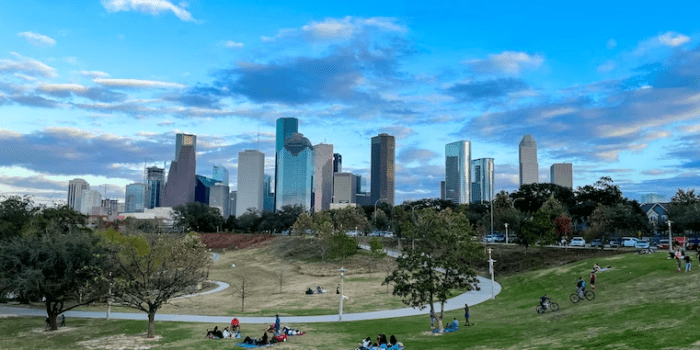 Houston, Texas is a city that offers a plethora of tourist attractions for visitors to explore. From world-class museums and iconic landmarks to vibrant neighborhoods and beautiful parks, there is something for everyone in this bustling city. Here are 10 must-visit tourist attractions in Houston that will surely leave you with unforgettable memories.
10 Tourist Attractions in Houston
1. Museum of Fine Arts, Houston
A Haven for Art Enthusiasts
The Museum of Fine Arts in Houston is a treasure trove for art enthusiasts. With over 70,000 works of art spanning 6,000 years of history, this museum offers a diverse range of artistic styles and genres. From ancient Egyptian artifacts to contemporary masterpieces, visitors can immerse themselves in the beauty and creativity of various cultures. The museum also features rotating exhibitions, ensuring that there is always something new to discover.
2. Space Center Houston
Explore the Wonders of Space
Space Center Houston is the official visitor center for NASA's Johnson Space Center. Here, visitors can learn about the history and future of space exploration through interactive exhibits and behind-the-scenes tours. Get a close-up look at real space shuttles, touch moon rocks, and even meet astronauts. This attraction offers a unique opportunity to delve into the mysteries of the cosmos and experience the wonders of space firsthand.
3. The Houston Museum of Natural Science
A Fascinating Journey through Time
The Houston Museum of Natural Science is a destination that offers a fascinating journey through time and the wonders of the natural world. From dinosaur exhibits and ancient Egyptian artifacts to a butterfly center and a planetarium, this museum has something to captivate both young and old. Visitors can explore exhibits on paleontology, geology, astronomy, and more, providing a holistic understanding of our planet's history and the vastness of the universe.
4. Buffalo Bayou Park
An Urban Oasis
Buffalo Bayou Park is a scenic oasis nestled in the heart of the city. Spanning 160 acres, this park offers picturesque views of downtown Houston and a myriad of recreational activities. Visitors can go for a bike ride or take a relaxing stroll along the park's winding trails, rent a kayak or paddleboard, have a picnic by the water, or even attend a free yoga class. With its beautiful green spaces and stunning skyline backdrop, Buffalo Bayou Park is a must-visit for nature lovers and outdoor enthusiasts.
5. Houston Museum of Natural History
Unravel the Mysteries of Ancient Civilizations
Step back in time and unravel the mysteries of ancient civilizations at the Houston Museum of Natural History. This museum showcases artifacts from Egypt, Greece, Rome, and other ancient cultures, allowing visitors to learn about their art, architecture, and daily life. Marvel at the intricate details of Egyptian mummies, explore replicas of ancient temples, and discover the fascinating stories behind these ancient civilizations. The museum also hosts engaging educational programs and special exhibits to further enrich the visitor experience.
6. The Menil Collection
A Haven for Art Lovers
The Menil Collection is a renowned art museum that houses a diverse range of art from antiquity to the present. This museum showcases an impressive collection of Surrealist, Pop, Abstract Expressionist, and contemporary works, making it a paradise for art lovers. The museum's distinctive architecture and serene setting provide the perfect backdrop for the art on display. Visitors can explore the museum's permanent collection for free and also enjoy rotating exhibitions and installations throughout the year.
7. Houston Zoo
A Wild Adventure for All Ages
The Houston Zoo is a family-friendly attraction that offers a wild adventure for all ages. Home to over 6,000 animals from around the world, this zoo provides an opportunity to get up close and personal with diverse species. From feeding giraffes to watching sea lions perform tricks, there are plenty of educational and entertaining activities to enjoy. The zoo also offers interactive exhibits and educational programs that promote conservation and wildlife preservation.
8. Discovery Green
A Vibrant Urban Park
Discovery Green is a vibrant urban park located in downtown Houston. Spanning 12 acres, this park offers a multitude of recreational activities, including walking trails, playgrounds, and a lake where visitors can rent pedal boats. With its lush greenery, public art installations, and frequent events and concerts, Discovery Green is a hub of activity and a beloved gathering place for locals and tourists alike. Whether you want to relax and enjoy the scenery or join in on the festivities, this park has something for everyone.
9. Houston Museum of Natural Sciences
Journey through Science and Innovation
The Houston Museum of Natural Sciences is a hub of scientific exploration and innovation. Featuring exhibits on biology, chemistry, physics, and more, visitors can journey through the various fields of science and discover the wonders of the natural world. From interactive displays and hands-on experiments to educational films and live demonstrations, this museum provides a fun and educational experience for visitors of all ages. The museum also boasts an impressive butterfly center and a planetarium, adding to the immersive nature of the visit.
10. The Houston Aquarium
An Underwater Adventure
The Houston Aquarium offers an exciting underwater adventure for visitors of all ages. Explore an array of marine life, including sharks, stingrays, and colorful tropical fish, as you walk through underwater tunnels and interactive exhibits. For an even more immersive experience, visitors can go on a behind-the-scenes tour or even have a close encounter with a penguin. The aquarium also hosts feeding demonstrations and educational talks, providing a deeper understanding of the diverse marine ecosystems.
In conclusion, Houston, Texas, is truly a city that caters to all types of tourists. With its world-class museums, stunning parks, and unique attractions, there is no shortage of things to see and do. Whether you're an art enthusiast, a science aficionado, or simply looking for a fun-filled family adventure, Houston's tourist attractions will not disappoint. So pack your bags and get ready to explore the wonders of Houston!
Get Proof 3-4

JogjaPost Jogja News Today. Presenting a variety of interesting information both local Jogja, national and even international. Follow us on Google News and other social media.