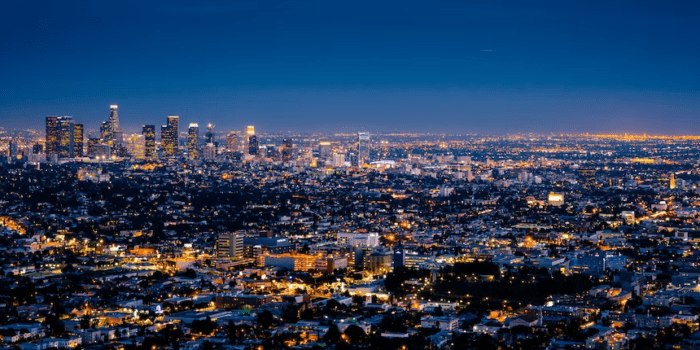 Los Angeles, known as the City of Angels, is a vibrant and diverse city that offers a multitude of attractions for tourists to explore. From iconic landmarks to stunning natural wonders, there is something for everyone in this bustling metropolis. In this article, we will take a closer look at 10 must-visit tourist attractions in Los Angeles.
10 Tourist Attractions in Los Angeles
1. Hollywood Walk of Fame
A Star-Studded Experience
The Hollywood Walk of Fame is an iconic landmark that attracts millions of visitors each year. Located along Hollywood Boulevard, this famous sidewalk is embedded with over 2,600 brass stars bearing the names of notable actors, musicians, directors, and other entertainment industry professionals. Take a stroll along the Walk of Fame and spot your favorite celebrities' stars while basking in the glitz and glamour of Hollywood.
2. Universal Studios Hollywood
Lights, Camera, Action!
Universal Studios is a theme park and working movie studio that offers visitors an immersive behind-the-scenes experience like no other. Embark on thrilling rides based on popular movies, witness live shows, and explore the historic backlot. Don't forget to take the iconic Studio Tour, where you can catch a glimpse of Hollywood magic in action!
3. Griffith Observatory
A Celestial Adventure
Nestled in Griffith Park, the Griffith Observatory offers breathtaking views of the Los Angeles skyline and the stars above. This iconic attraction is home to a planetarium, exhibits about space exploration, and telescopes that allow visitors to observe celestial wonders. Whether you're a space enthusiast or simply seeking a serene escape, the Griffith Observatory is a must-visit destination.
4. Getty Center
Art and Architecture
The Getty Center is a world-renowned art museum situated on a hilltop overlooking Los Angeles. Boasting an impressive collection of European paintings, sculptures, and decorative arts, this architectural marvel offers visitors a chance to immerse themselves in art and culture. Explore the vast gardens, enjoy panoramic views of the city, and admire the stunning modernist architecture that houses the Getty's treasures.
5. Santa Monica Pier
Fun Under the Sun
A visit to Los Angeles wouldn't be complete without a trip to Santa Monica Pier. This lively and bustling destination offers a plethora of entertainment options, including thrilling rides at Pacific Park, delectable dining at various restaurants, and fantastic shopping opportunities. Take a leisurely stroll along the beach, enjoy breathtaking views of the Pacific Ocean, and make lasting memories at this iconic pier.
6. The Getty Villa
Ancient Art and History
The Getty Villa, located in the Pacific Palisades, is an educational center dedicated to the study of arts and cultures of ancient Greece, Rome, and Etruria. Modeled after a first-century Roman villa, the museum houses an extensive collection of ancient artifacts, including sculptures, mosaics, and pottery. Explore the gardens, participate in workshops, and indulge in the richness of ancient history at this unique attraction.
7. The Hollywood Sign
An Iconic Landmark
No visit to Los Angeles is complete without catching sight of the world-famous Hollywood Sign. Perched on the hills of Hollywood, this iconic symbol of the movie industry can be seen from various vantage points throughout the city. Embark on a hike to the Griffith Observatory or visit Lake Hollywood Park for the perfect photo opportunity with the Hollywood Sign as your backdrop.
8. The La Brea Tar Pits
Time Capsule of Prehistoric Life
Step back in time at the La Brea Tar Pits, one of the world's most famous fossil sites. Located in the heart of Los Angeles, this unique attraction allows visitors to witness ongoing excavations of tar pits that have trapped animals for thousands of years. Explore the museum, observe paleontologists at work, and marvel at the astonishing collection of fossils dating back to the Ice Age.
9. Venice Beach
A Bohemian Paradise
Venice Beach is a vibrant and eclectic neighborhood that showcases the unique spirit of Los Angeles. Known for its colorful boardwalk, street performers, and skate park, this beachfront destination offers a laid-back and bohemian atmosphere. Take a leisurely bike ride along the boardwalk, watch the sunset over the Pacific Ocean, and soak up the artistic energy that permeates the streets of Venice.
10. The Natural History Museum
Discover the World's Wonders
The Natural History Museum of Los Angeles County is a treasure trove of natural wonders. From colossal dinosaur skeletons to exquisite gemstones, this museum offers a fascinating exploration of the Earth's history and biodiversity. Engage with interactive exhibits, marvel at the renowned gem and mineral collection, and learn about the wonders of the natural world.
Los Angeles is a city that pulsates with excitement and offers a wide array of attractions for tourists. From the glitz and glamour of Hollywood to the natural wonders and cultural treasures, there is something for everyone to enjoy. Whether you're an art aficionado, a nature lover, or a movie buff, the 10 tourist attractions in Los Angeles highlighted in this article will undoubtedly make your visit to the City of Angels unforgettable.
Get Proof 4-4

JogjaPost Jogja News Today. Presenting a variety of interesting information both local Jogja, national and even international. Follow us on Google News and other social media.