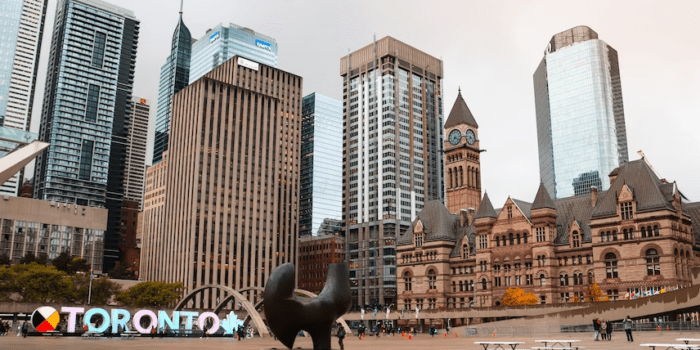 Toronto, the capital city of the province of Ontario in Canada, is a vibrant and multicultural metropolis that offers a plethora of attractions for tourists. From iconic landmarks to stunning natural beauty, Toronto has something for everyone. Whether you're a history buff, foodie, or nature lover, here are 10 must-visit tourist attractions in Toronto that will leave you mesmerized.
10 Tourist Attractions in Toronto
1. CN Tower
Soaring Heights and Breathtaking Views
The CN Tower, standing tall at 553.3 meters, is an iconic symbol of Toronto's skyline. It offers visitors a unique opportunity to experience breathtaking panoramic views of the city from its observation deck. For the thrill-seekers, the EdgeWalk allows you to brave the heights and walk on a ledge outside the tower. Don't forget to indulge in a delicious meal at the revolving restaurant, which offers stunning views of Toronto as you dine.
2. Royal Ontario Museum
A Journey Through Time and Culture
The Royal Ontario Museum is a must-visit attraction for history and culture enthusiasts. With its impressive collection of over six million artifacts, the museum offers a glimpse into the natural and cultural history of Toronto and the world. From dinosaur fossils to ancient Egyptian mummies, the exhibits at the Royal Ontario Museum will leave you in awe. Be sure to check out the rotating special exhibitions for a unique and immersive experience.
3. Toronto Islands
An Oasis of Tranquility
Escape the bustling city life and take a ferry ride to the Toronto Islands, a group of small islands located just off the coast of downtown Toronto. These islands offer a peaceful retreat where you can relax on sandy beaches, rent a bike for a leisurely ride, or enjoy a picnic in the lush greenery. Explore the charming neighborhoods, visit the Centreville amusement park, or simply soak in the beauty of Lake Ontario from one of the many scenic viewpoints.
4. Ripley's Aquarium of Canada
Dive into an Underwater Wonderland
Immerse yourself in the fascinating world of marine life at Ripley's Aquarium of Canada. Located at the base of the CN Tower, this state-of-the-art facility is home to over 20,000 aquatic animals. Walk through the mesmerizing underwater tunnel as sharks and manta rays swim overhead, or marvel at the vibrant colors of the coral reefs. Don't miss the daily live shows and interactive exhibits that provide a deeper understanding of marine conservation.
5. St. Lawrence Market
A Food Lover's Paradise
Indulge your taste buds and explore the culinary delights of Toronto at the St. Lawrence Market. This historic market, dating back to the 19th century, is a vibrant hub of food vendors, artisans, and local farmers. Sample fresh produce, artisanal cheeses, mouthwatering pastries, and international cuisines as you stroll through the market's bustling aisles. The St. Lawrence Market is not only a feast for the senses but also a great place to immerse yourself in the city's vibrant food culture.
6. Casa Loma
Step into a Fairytale Castle
Transport yourself back in time and explore the majestic Casa Loma, a Gothic Revival-style castle in the heart of Toronto. Built in the early 20th century, this grand mansion offers visitors a glimpse into the luxurious lifestyle of Toronto's elite. Admire the stunning architecture, explore the secret passages, and wander through the beautifully landscaped gardens. Casa Loma also hosts various events and exhibitions that showcase the history and heritage of the city.
7. High Park
Nature's Playground
Escape the urban jungle and immerse yourself in nature at High Park. Spanning over 161 hectares, this sprawling park is a haven for outdoor enthusiasts. Take a leisurely walk along the scenic trails, have a picnic by the lake, or rent a paddleboat for a relaxing ride. High Park is also home to the famous cherry blossoms, which bloom in the spring and create a stunning pink canopy. With its diverse flora and fauna, High Park is a nature lover's paradise.
8. Art Gallery of Ontario
A Feast for the Artistic Soul
Discover a world of art at the Art Gallery of Ontario (AGO). This renowned art museum boasts an extensive collection of over 90,000 works, ranging from Canadian and European masterpieces to contemporary art. Lose yourself in the diverse exhibitions that showcase different artistic movements and mediums. The AGO also offers interactive workshops and guided tours for those looking to delve deeper into the world of art.
9. Distillery District
A Historical Neighborhood
Step back in time and wander through the picturesque streets of the Distillery District. This preserved Victorian-era industrial complex is now a vibrant neighborhood filled with art galleries, boutiques, and charming cafes. Admire the beautifully restored red-brick buildings as you explore the cobblestone lanes. The Distillery District also hosts various cultural events, including art installations, music festivals, and theater performances.
10. Toronto Zoo
Get Close to Wildlife
Embark on a wild adventure at the Toronto Zoo, one of the largest zoos in the world. With over 5,000 animals representing more than 450 species, this sprawling zoo offers an immersive experience for animal lovers of all ages. From the majestic lions to playful pandas, the Toronto Zoo is home to a diverse range of wildlife. Don't miss the interactive exhibits, educational programs, and daily animal feedings that provide a deeper understanding of conservation.
In conclusion, Toronto offers a myriad of tourist attractions that cater to every interest and passion. From soaring heights at the CN Tower to exploring the depths of Ripley's Aquarium, there is no shortage of unique experiences to be had in this vibrant city. So, pack your bags and embark on an unforgettable journey to explore the 10 tourist attractions in Toronto.

JogjaPost Jogja News Today. Presenting a variety of interesting information both local Jogja, national and even international. Follow us on Google News and other social media.