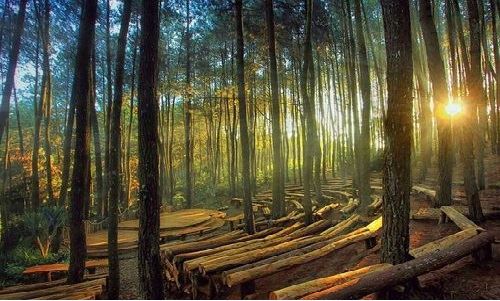 Imogiri Pine Forest – In this day and age, tourists are smarter. The reason, they are vacationing not only want to see the scenery alone, more than that, tourist attractions are also expected to have more value.
As I will say in this article. A place that will give you a natural freshness, beautiful scenery, as well as its benefits. The tour is none other than Imogiri pine forest tour.
History of Pine Forest Mangunan
In the past, before this Pine Forest became a very popular tourist destination, this Pine Forest is a barren and arid region.
This barren and arid pine forest area is caused by the exploitation of large timber several decades ago. That's what caused the Pine Forest area once hot and quite uncomfortable.
Until then, the area that was once barren and arid was slowly reforested. Not only Pine Tree, other big trees such as Acacia Tree, Mahogany Tree, Tree of Pecan and White Wood trees also exist in pine forest area.
The trees are then planted in the area of ​​land that has an area of ​​approximately 500 ha. Areas that were barren, now also become "eyub" (shady) and really suitable for ngadem (deliberately activities to make the body cold).
Did you know, in addition to being a protected forest, currently Imogiri Pine Forest also become one of the tourist destinations are quite popular. In addition to the cool weather, the road is not too difficult to go, as well as a place to enjoy the wilderness of Pine Forest.
Facilities at Imogiri Pine Forest
When you take a vacation to the Imogiri Pine Forest, there are several facilities that you can get. In addition to the cheap price, there are also other facilities such as bathrooms, substations padang, stage performances and community stalls that fit really for hanging out or just a break.
Relax and do not worry if you just bring a little money. Therefore, a snack in place of stalls there will not cost big. At most you snack Rp.10.000, – already full hehe …
In addition to the above facilities, for There are Muslims, also provided a clean mosque. You can solemnly worship there accompanied by natural nan siul sweet birds.
Best Photo Hunting Place
One of the values ​​that became the attraction of Pine Forest is a very enchanting forest when used as photo hunting. In fact, some people say that Pine Forest has the most interesting and best photo hunting
Usually, where the pine forest is used for photographers for married couples. In addition to beautiful natural scenery, beautiful and fresh, Pine Forest is also able to uncover the secrets of natural charm.
For those of you who like to hunt for photographs, perhaps when picturing this Pine Forest, you would think like a place that has an atmosphere like in Hollywood movies.
For example like a movie Twilight. Perhaps you will be amazed because this pine forest almost resembles the area that is there. So, if you want to go to the Twilight shooting area, you can just come to the Pine Forest. Guaranteed to be better hehe …
In addition to the above values, there is also value of historical value. In the Imogiri Pine Forest, there is also a spring named Mata Air Bekung. This spring is the place used by Sultan Agung Hanyakrakusuma as a hermitage.
The establishment of Bengkung Springs itself around the year 1925 until 1930. To get to the water source built by the government, there are several alternative roads that you can take, including trekking from the parking lot through huta meeting. After that you can follow the outbound path.
Alternatively, you can use a circular path. This road is more recommended for you because it is more security and comfort.
Access to Imogiri Pine Forest
Imogiri Pine Forest is located in Mangunan Village, Dlingo District, Bantul Regency, Yogyakarta. If you start your journey through the South Ring Road or more precisely from the direction of Gamping, then you follow petunuk direction Parangtritis to District Dlingo.
Next, continue your journey following the directions board to the Manguan Fruit Garden. When you've reached the Fruit Farm Magunan, straight course about approximately 1 Km, just follow the asphalt road.
Be careful after passing the road above, you will pass the road uphill. You need to stay focused and concentrate so that nothing unwanted happens.
Opening Hours and Entrance to Imogiri Pine Forest
Some say that pine forest is a tourist place that is suitable for you who like backpaperan. It is true, in the Pine Forest, there are no opening hours and closing hours. Imogiri Pine Forest provides a full 24 hour open facility.
You can also enjoy pine forest tour with free or free. In the pine forest itself, until now has not had a paying counter so it is still free.
However, even though the entry fee is free, you are still required to pay for vehicle parking when you drive a private vehicle. The cost for motorcycle parking is Rp. 2000, – rupiah and Rp.4000, – for four wheels.
Holiday Tips to Imogiri Pine Forest
According to my experience, I would like to give tips to you who have been and will be vacationing to pine forest. Since Pine Forest is a natural resource, it is fitting for us to watch together.
1. Throw Trash in Place
Things that need to be emphasized in natural attractions is cleanliness. Therefore, we as visitors should take care of cleanliness of Pine Forest by dumping the garbage in its place.
2. No Smoking
When you come to Huta Pinus, try not to smoke. This is because the area is mostly forest, so if you neglect when throwing cigarette butts, undesirable events can happen.
3. Personal Vehicles
Can you go to Pine Forest using public transport? Because the area is not passable public transport, there are good meggunaka private vehicle. Or, you can also hire a guide.
4. Bring Food Supply
If you are on holiday to the Pine Forest, it's good you bring your own food and drink. This is to keep watch when your stomach rumbles. Because, in Imogiri Pine Forest is not every time there are stalls that sell wares. It seems only in times of big days only.
Tour to Pine Forest
If you want a holiday to the Pine Forest, but you are very troublesome, you can use the help of Yogyakarta Study Tour service.
Various facilities have been provided for you both the means of transportation, provisions such as food, drink and of course the knowledge of the tourist attractions of Imogiri Pine Forest.
You can go alone or in groups. When you leave in groups, you can let us know in advance so we can prepare well.
As for if there is alone, you can contact us anytime you want. We will accompany you to visit the pine forest attractions.
Thus the exposure of Imogiri Pine Tour, if you have never visited it, you can plan for tomorrow's holidays.
We Tour Yogyakarta wish you a holiday in Yogyakarta, if there is any help we can give you can contact Yogyakarta Tour, of course we give comfort and satisfaction of your holiday.

JogjaPost Jogja News Today. Presenting a variety of interesting information both local Jogja, national and even international. Follow us on Google News and other social media.