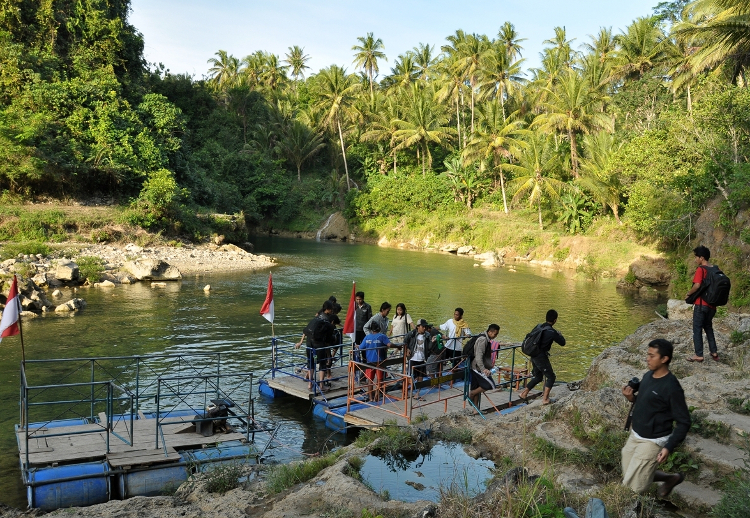 Now, we are going through Gunung Kidul again. If the article yesterday I told my trip to Indrayanti Beach, is also still associated with nature tourism. The next day, I hope I can review about Taman Sari Jogja.
Perhaps you've thought of the name of Gunung Kidul as a barren, arid region. Not so.
Did you know there are more than 15 beaches, then some interesting cave tour destinations and some cool waterfalls no appeal.
Well, on this occasion, I chose to discuss more specifically about Sri Gethuk Waterfall tour. Let…
Sri Gethuk Waterfall Panorama
Sri Gethuk Waterfall is one proof of the wealth of Gunung Kidul Regency. Sri Gethuk is a natural potential of a river flow that splits high rock cliffs.
When we look together, Sri Gethuk Waterfall has its own uniqueness. One of them, the water that jump from the terbing is not limited by the season. That is, whatever season is running, Sri Gethuk Waterfall keeps flowing.
Myth Sri Gethuk
The Origin of Sri Gethuk
Intrigued by the origin of the name Sri Gethuk? According to the exposure of a number of local residents, it is said, Sri Gethuk Waterfall serves as a place to store Kethuk.
Kethuk is a traditional musical instrument, or the term gamelan is easy. The story again, the gamelan owners are the spirits, namely Jin Anggo Meduro.
That is the origin of naming waterfall named Sri Gethuk this. You may initially think that 'Sri' is a person's name, while 'gethuk' is the name of the food. Same! But not that it turns out hehe …
It is said again, in Sri Gethuk Waterfall tour, at certain times the surrounding community is still often heard the sound of gamelan music from the location of Sri Gethuk Waterfall tour. Wow is not it?
Rainbow Color at Sri Gethuk Waterfall
There is one more thing unique. When you are near the Waterfall Sri Gethuk, your body will feel the cool atmosphere into the body. Water splutter sounded as if to welcome your arrival.
If you are lucky, in the natural attractions Sri Gethuk Waterfall this will look beautiful rainbow. Rainbow that you can see near you. Amazing!
Usually, a rainbow will appear when rain or drizzle wets Sri Gethuk Waterfall. However, at certain times you can enjoy the beauty of the rainbow at Sri Gethuk Waterfall – if you are in a rather remote area.
The Journey to Sri gethuk Waterfall
When you go on holiday to Yogyakarta, you should not miss Sri Gethuk Waterfall tour. This tour is very unfortunate when you pass it by, you will lose the moment to see the beautiful tourist areas so cool and fascinating.
Actually, to get to Sri Gethuk Waterfall, you do not need to bother. Because, if you want to the tourist attractions, you can ride the vehicle and through the woods of timber owned by Perhutani.
On the way, you will see a fishing area that serves as a parking area. The journey to Sri Gethuk Waterfall can you continue with the foot walk.
You will be walking "the galengan" in the middle of rice fields accompanied by a wave of coconut water. You can also see the rice fields closely, can even touch it. Well, this way is the way that is free of charge or free hehe ..
There is also a second way. This method requires visitors to board the raft. Extreme enough indeed, because you will be accompanied by the swift flow of the River Oya.
Well, for you who have a hobby of tranquility, you can leave early to get to the location of Waterfall Sri Gethuk in the morning.
When you climb the raft made of drums in the morning, you will feel the calm comfort of the water Oya River. You can enjoy the nature at once eat with family accompanied by morning sun.
Along the way, you will enjoy a beautiful panoramic view and reassuring. You will see the green trees that feel very fertile, plus the cliffs of black jade karts firmly fence the right and left side of the river.
The gurgling of small animals replies with each other the tone and rhythm of nature. All unite brings with it an undeniable beauty.
Routes and Address Sri Gethuk Waterfall
Towards a waterfall in this day and age is very easy to do. Not like ancient times. I myself first to get to ait plunge must pass unpaved roads.
But now all the infrastructure has been built, the visitors can be comfortable and secure up to Sri Gethuk Waterfall.
If you are going to vacation to Sri Gethuk Waterfall, I can explain to you starting from downtown Yogyakarta. From the city of Jogja, you take the direction to Wonosari.
Continue to follow the path Jogja – Wonosari up to the T-junction Ivory. At the Ivory T-junction, you'll see a signpost for Playen. Follow the instructions until you reach the Playen area. Arrive in Jogja, take your directions to Wonosari.
If you have reached the Playen area, you will find many directions suggesting you to pass the road to get to Sri Gethuk Waterfall.
My suggestion, if you want to go to Sri Gethuk Waterfall, it's good you pass the asphalt road although take a little time. It's better than you go through the off-road jaan. Off-road road is better avoided because it is less comfortable and safe to pass.
Furthermore, the address of Sri Gethuk Waterfall is located in Bleberan Playen, Gunung Kidul Regency, Yogyakarta's stimulant area.
Tour Sri Gethuk Jogja
If you want a getaway to Sri Gethuk Waterfall, you can do it with your family. But if you want to full enjoy Sri Gethuk Waterfall tour, you can also take advantage of the guide that provides a package study tour to Sri Gethuk Waterfall natural attractions.
Just like the Yogyakarta Tour, you can contact us if you want a holiday to Sri Gethuk Waterfall. The facilities we provide include the means of transportation, peninapan, guide that will accompany and tell your trip, food and all things related tour supplies.
You can also invite your entourage to enjoy Sri Gethuk Waterfall tour. Simply you give us information how many entourage and what needs to be prepared, we will provide the best for you.

JogjaPost Jogja News Today. Presenting a variety of interesting information both local Jogja, national and even international. Follow us on Google News and other social media.