If you read about "Telaga Warna or Telaga Biru" in the book or hear someone discuss it in front of your ear, what do you think?
Would you imagine an amazing nature fanorama or a lake dotted with various colors of water, or you can not imagine it with your logical reasoning about how the lake looks color?
Well, answered alone if like that.
What's more when you're traveling but have never known about Telaga Warna, may feel less or even curious if you never go there.
Worse yet, if you can only hear it from the whispering whispers of friends and your friends story it has a variety of versions of Telaga Warna, of course, make you more seduced protracted ever.
Lake Color Proof Colorful Jogja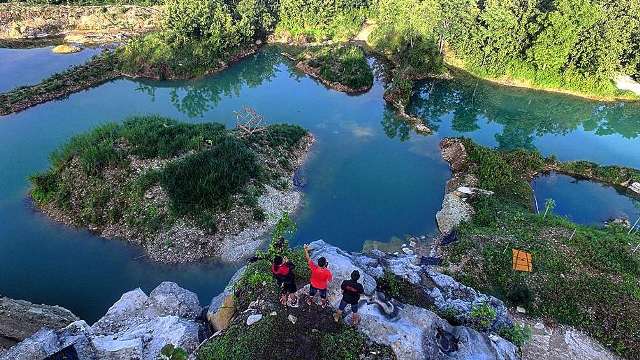 You know about the city of Yogyakarta, the city dubbed "Kota Pejalar." In addition to the Town of Students, the city contributed many achievements, intellectuals and the next generation of the nation, but the tour is no less interesting bin loh!
Do not you just know that tourist attractions in Yogyakarta only tours that are historical or just know Prambaban temple only.
Well, that's so bad dude! What's more for you who have been here long, but only know that and that's it. It was heartbreaking.
In the city of Yogyakarta, in addition dikhiasai with cultural-based artifacts tour that contains many artistic and historical values, but Yogyakarta also has a lake Telaga Warna loh! Not only cultural preserve.
Telaga Warna in Yogyakarta is located on the border of Gunungkidul with Central Java. If you are from Wonosari city, you can go directly to Ngentek Village, Candirejo, Semin, Kecamatan Gunungkidul. If you are afraid of getting lost while going there?
Take it easy, you can find the location by using Google Maps on your phone.
If you are in Yogyakarta city, maybe you will take the road 2 or 3 hours journey to get to Telaga Biru. But you just calm down, your pique will be remedied when it was there.
Because fatigue that will pay off with beautiful scenery that can be enjoyed clearly by the eyes.
Well, for more, you better know the history and what is interesting from Telaga Biru. So that you not only travel alone, but also get the knowledge.
What else about Telaga Biru in Yogyakarta, still few people know and what else to know its history and so forth may be just a few handful of people only.
Well, for more, this is some of the knowledge you should see about Telaga Biru which will certainly give you knowledge.
History Telaga Biru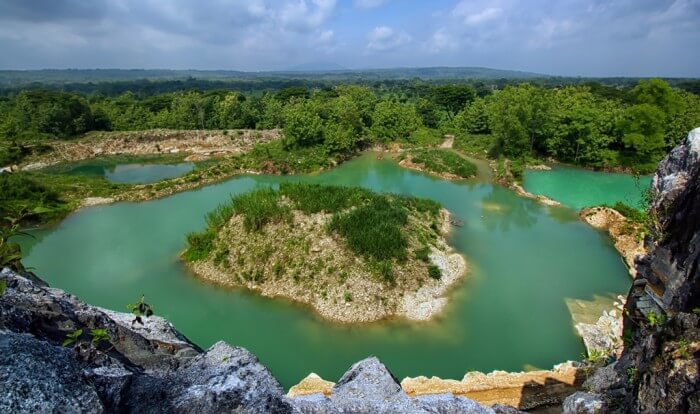 Every place that is in the world and especially the archipelago, will not be separated from what the name of origin or history. Likewise in Yogyakarta.
The city of Yogyakarta is a region full of historical elements. Starting from where the founding of the second largest organization such as Muhammadiyah and had been the capital during President Sukarno.
There is much more history contained in Yogyakarta and can not be mentioned all.
However, is there Telaga Biru history? Starting from the time of origin-Telaga was formed and so forth. There must be a history, because everything that exists can not be separated from its origin.
Formerly, Telaga Biru was a white stone mine run by an entrepreneur.
As a result of the mining activities and the frequent occurrence of heavy rain, the formerly arid and barren areas become a tourist attraction that is highly hunted by tourists who want to vacation in Yogyakarta.
The waters in Telaga Biru also come from underground. In addition to the water comes from rain water, but it was also water Telaga Biru from the springs in the earth there loh!
So when you bathe in Telaga Biru, you will get freshness plus beautiful scenery from the natural. You will not be bored if you swim, because you will be presented with various things and the temtunya, will not make you bored.
The Origin of the Blue Lake Naming
For any naming it can not be separated from what humans see and feel. If in ancient times, people named something, he would name what he found with what he saw and felt.
We suppose like this, "if you find a lake that has not been found by man and then you are stunned and fascinated with the water is very blue and beautiful."
What name will you give? While the first thing to amaze you is the very blue water. Well, I am very sure, you will name what first amazed you.
Likewise with naming Telaga Biru in this Gunungkidul. Besides he offers a beauty from outside the telaganya, but you will be amazed by the water.
For the one who discovered it first saw the beauty of that named water and finally called the Blue Lake.
Many say the language is a collective agreement (collectively) from the community. But true indeed, as what was said earlier.
As a result of the agreement came the naming of Telaga Biru and orange would name what was agreed together.
As a result, this lake until now called Telaga Biru because of the bluish offered by the water. Until many tourists, whether local or international call his name with Telaga Biru.
In fact, if you open maps and type Telaga Biru, you will find it on the maps. Because Telaga Biru is already quite famous in Yogyakarta.
Telaga Biru Myth
Whatever it is, whether it be a relic and others, must have its own myth. What more myths for a place. If talking about the myth of the Blue Lake will be many people who say that Telaga Biru suddenly appeared water.
And if viewed from the geographical side of Gunungkidul region, what else in this Telaga Biru area is very dry. So it is very difficult to find water as clear and blue as the Blue Lake in dry land as in Gunungkidul.
Another myth of a lake, whatever the name of the lake, the lake according to the myth of the previous people is a bath of the goddess of heaven there. Well, if you go there, you might find your goddess-you're waiting for ages.
Every existing lake, on average has different myths and some are the same. What else about the lake is where the goddess of heaven there
Price of Telaga Biru
Almost in Yogyakarta area has free tours to enter it. What else in Gunungkidul area.
If you want to travel to Telaga Biru, you will not pay as expensive as other tourist attractions. You just pay enough for 10,000 experts to keep your motors safe. How? Cheap is not it?
Uniqueness of Blue Lake
The uniqueness of the Blue Lake is a lot of loh! First he was in Gunungkidul area which is still far from the frenetic city. Second, Telaga Warna is managed directly by the residents there, third, Telaga Biru is a lake formed from the mining.
Fourth, in addition you can see the beauty of Telaga Biru, you will also be served with cliffs and trees-pohannya and fifth, after you go home, you can stop at the beautiful tourist area Gunungkidul.
The Route Towards Telaga Biru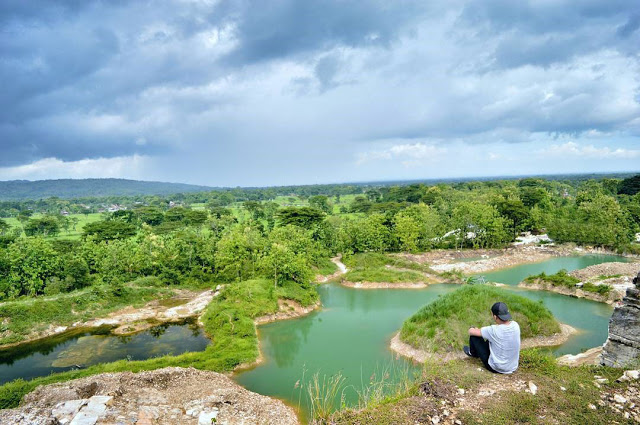 If you are from jogja, the route you have to pass before you get to Telaga Biru. First, you have to go past the Yellow House. Secondly, you have to go to Wonosari street and after that you go to Piyungan area.
Third, you will pass through Bukit Bintang and you are straight following the path that is on Bukit Bintang. Kempat, you have to pass Sambiputi area and then you find Air Force Air Force.
Fifth, you will pass through Ivory and go to Siyono area. Sixth, after you pass through Siyono area, you will pass Wonosari area and go to Selang area.
Seventh, you will find the area of ​​Wiladeg, \ and after that, you should look for Karangmojo intersection to the north. Eighth, you you will straightly find the fork kepil and then you have to go right and you have to go to Semin.
Ninth, when you've found Semin area, you have to go to Weru Semin road and go to Candirejo Gentek wine.
Things you should do after after Ngantek, you ask the people about the location of Telaga Biru and after you menyakan, you will be directed to the Blue lake blood. As a result, you will come and discover the natural beauty of God's creation that will amaze you.
Holiday Tips Toward Telaga Biru
If you are from Yogyakarta City and want to go to blue lake, you have to prepare some preparation. First, you have to fill the gasoline motorcycle or your car with full gasoline.
Secondly, you should wear a jacket, trousers and gloves. Because in the area of ​​Gunungkidul, the weather is rather hot and the third, you have to prepare supplies so you do not bother to buy food on the roadside.
As for the journey, so steep. Means you should use your gender at a moderate pace.
For example, if you do not want to tire of driving, you can rent a car and driver in rentals that are scattered in almost every region of Yogyakarta.
Or you can leave when the afternoon to see the afternoon scenery of the area around Yogyakarta. What's more, the afternoon is perfect for you who like the streets plus love to see the scenery in the area.
Well, if you go home. The first thing that you have to remember is about the time when you will go home. Moreover, the Gunungkidul area is still quiet. You do not go home late, because for dark atmosphere if at night.
Things to Do in Telaga Biru
The activity you can do in Telaga Biru is a lot. Starting from a selfie photo, swim,, see beautiful cliffs and see the beautiful village setting.
What's more when you go in the morning, you will be pampered with a natural atmosphere that is still beautiful and for the time of the afternoon, you can be pampered by the atmosphere on the cliffs near the blue lake that spoil you.
When you will come home from Telaga Biru, you can enjoy the natural beauty around when you go home. What else in the area of ​​Gunung Kidul is still clean from air fusion and different as in the city of Yogyakarta itself
Facilities at Telaga Biru
In addition you will be pampered with nature, you will be facilitated by citizens. You get a lot. First, you can rent a float, if you can not swim and want to keep your address.
Secondly, you can rent boats from the residents to better feel what it's like to see the view of Telaga Biru from the boat.
Third, your bike will be safe, if you park there. So you do not have to worry about your motor will be why or why your motor will be lost. Therefore, residents will maintain the primacy of the tourists.

JogjaPost Jogja News Today. Presenting a variety of interesting information both local Jogja, national and even international. Follow us on Google News and other social media.