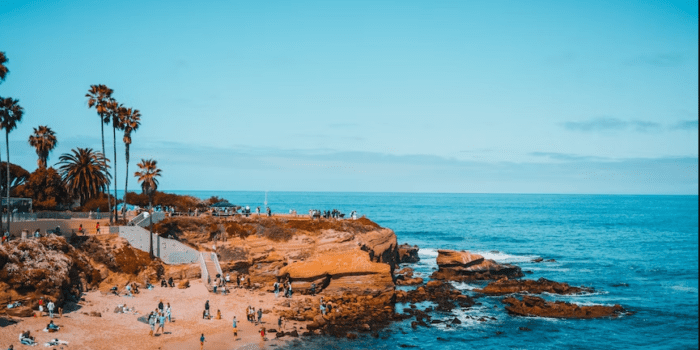 San Diego, known for its stunning beaches, year-round great weather, and vibrant culture, is a fantastic destination for tourists. Whether you're a fan of outdoor activities, historical landmarks, or delicious cuisine, San Diego offers a wide variety of attractions to cater to all interests. Here are ten must-visit tourist attractions in San Diego.
10 Tourist Attractions in San Diego
1. Balboa Park
A Cultural Oasis in the Heart of San Diego
Balboa Park, often referred to as the "Crown Jewel" of San Diego, is a sprawling urban park that offers visitors an abundance of attractions and activities. The park is home to several museums, including the San Diego Museum of Art, the San Diego Natural History Museum, and the Fleet Science Center. Additionally, visitors can explore the beautiful Botanical Building, which houses an array of exotic plants, or enjoy a relaxing picnic in the park's charming gardens.
2. San Diego Zoo
Get Up Close and Personal with Wildlife
The San Diego Zoo is one of the most renowned zoos in the world, attracting millions of visitors each year. Spanning over 100 acres, this zoo is home to over 3,500 animals from different species. Visitors can witness a wide range of animals, such as giant pandas, gorillas, and polar bears, in spacious and naturalistic habitats. The Zoo also offers various interactive experiences, including behind-the-scenes tours and animal encounters, providing visitors with an opportunity to get up close and personal with their favorite animals.
3. USS Midway Museum
Step Aboard a Historic Aircraft Carrier
Situated along the picturesque San Diego waterfront, the USS Midway Museum offers a fascinating glimpse into naval history. The museum is located on the USS Midway, an aircraft carrier that served in the US Navy for almost 50 years. Visitors can explore the ship's numerous exhibits and displays, including restored aircraft, interactive flight simulators, and engaging historical narratives. The highlight of the visit is stepping onto the flight deck, where you can marvel at the impressive array of military aircraft and enjoy breathtaking views of the city skyline.
4. La Jolla Cove
A Haven for Beach Lovers and Marine Enthusiasts
La Jolla Cove, located just north of downtown San Diego, is a picturesque jewel along the coast. This small, protected beach is surrounded by majestic cliffs and crystal-clear waters, making it an ideal spot for snorkeling, scuba diving, and swimming. The cove is also home to a wide variety of marine life, including seals, sea lions, and rich ecosystems of colorful fish. Visitors can enjoy breathtaking coastal views, explore tide pools teeming with marine creatures, or simply relax on the sandy beach and soak up the sun.
5. Old Town San Diego State Historic Park
Immerse Yourself in San Diego's Rich History
Step back in time and experience the early days of San Diego at Old Town San Diego State Historic Park. This beautifully preserved neighborhood represents the birthplace of California, showcasing historic buildings, museums, and a wealth of cultural attractions. Visitors can explore the adobe structures, wander through vibrant Mexican markets, and witness traditional performances. Don't forget to indulge in some delicious Mexican cuisine at one of the many authentic restaurants that line the streets of Old Town.
6. Cabrillo National Monument
Discover the Birthplace of California
Perched on the scenic Point Loma Peninsula, Cabrillo National Monument commemorates the landing of Juan Rodriguez Cabrillo, the first European to set foot on the West Coast of the United States. Visitors can explore the monument's interactive exhibits, hike along the stunning coastal trails, and take in panoramic views of the ocean and downtown San Diego. Don't miss the chance to visit the Old Point Loma Lighthouse, which offers a fascinating glimpse into the lives of early lighthouse keepers.
7. Gaslamp Quarter
A Vibrant Epicenter for Dining and Entertainment
The Gaslamp Quarter is a historic neighborhood in downtown San Diego that offers a lively mix of dining, shopping, and entertainment options. This vibrant district is known for its beautifully restored Victorian-era buildings, housing some of the city's finest restaurants, trendy bars, and nightclubs. Visitors can enjoy a wide range of culinary delights, from world-class seafood to gourmet international cuisine. The Gaslamp Quarter is also host to various events and festivals throughout the year, including the famous Comic-Con International.
8. Seaport Village
A Charming Waterfront Shopping Experience
Seaport Village is a charming shopping and dining destination located along the San Diego Bay waterfront. This unique village-style complex offers a wide range of boutique shops, art galleries, and waterfront restaurants. Visitors can stroll along the winding pathways, admire the beautiful marina, and enjoy live entertainment from street performers. Don't forget to savor some delicious ice cream or fresh seafood while taking in the breathtaking views of the bay and Coronado Bridge.
9. Torrey Pines State Natural Reserve
Immerse Yourself in Natural Beauty
Located along the coast, Torrey Pines State Natural Reserve is a paradise for outdoor enthusiasts and nature lovers. This protected natural area is known for its rugged cliffs, golden sandy beaches, and the rare Torrey Pine trees that lend their name to the reserve. Visitors can explore the reserve's numerous hiking trails, which offer breathtaking views of the Pacific Ocean and opportunities to spot unique wildlife. The reserve is also home to the iconic Torrey Pines Golf Course, one of the most scenic golf courses in the world.
10. Coronado Island
Paradise on the Pacific
Located just across the bay from downtown San Diego, Coronado Island is a charming coastal community famous for its pristine beaches, luxurious resorts, and the iconic Hotel del Coronado. Visitors can enjoy a leisurely bike ride along the picturesque shoreline, explore the boutique shops and art galleries in the charming downtown area, or simply relax on the sandy beach and soak up the sun. Don't miss out on the opportunity to witness a stunning sunset over the Pacific Ocean from Coronado's Glorietta Bay Park.
San Diego is a city with a seemingly endless array of tourist attractions to explore. Whether you're interested in history, wildlife, or simply enjoying the beautiful outdoors, San Diego has something for everyone. So, pack your bags, put on some sunscreen, and get ready to embark on an unforgettable adventure in the city known for its welcoming atmosphere and sunny skies.

JogjaPost Jogja News Today. Presenting a variety of interesting information both local Jogja, national and even international. Follow us on Google News and other social media.