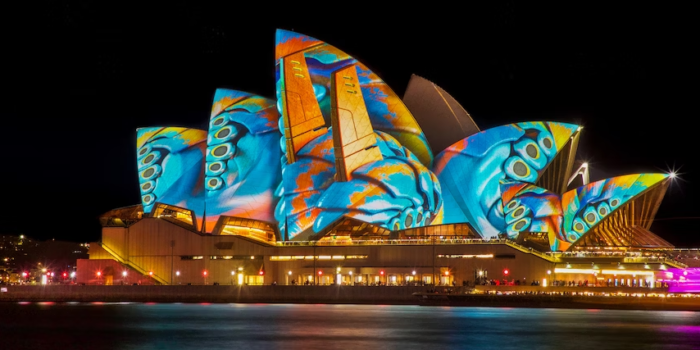 Australia is a breathtaking country, filled with remarkable natural wonders, vibrant cities, and a rich cultural heritage. From stunning coastlines to lush rainforests, there are countless tourist attractions that will leave you in awe. Here are the top 10 must-visit places in Australia:
10 Tourist Attractions in Australia
1. The Great Barrier Reef
A Natural Wonder of the World
The Great Barrier Reef is a true marvel, stretching over 2,300 kilometers along the Queensland coast. This underwater paradise is home to over 1,500 species of fish, as well as breathtaking coral formations. Snorkeling or diving in the pristine waters of the Great Barrier Reef is a bucket list experience you shouldn't miss.
2. Sydney Opera House
An Iconic Landmark
The Sydney Opera House is an architectural masterpiece that sits proudly on Sydney's harbor. Its unique design, resembling soaring sails, has made it an Australian icon. Inside, it hosts a wide range of performances, including opera, ballet, and theater. Take a guided tour to learn more about its fascinating history.
3. Uluru-Kata Tjuta National Park
An Ancient Wonder
Located in the heart of the Australian Outback, Uluru-Kata Tjuta National Park is home to the iconic Uluru, also known as Ayers Rock. This massive sandstone formation is sacred to the indigenous Anangu people and holds great spiritual significance. Witness the magnificent colors of Uluru at sunrise or sunset for an unforgettable experience.
4. Great Ocean Road
A Scenic Coastal Drive
The Great Ocean Road is a picturesque coastal drive that spans over 240 kilometers along Victoria's stunning coastline. This famous road takes you past dramatic cliffs, pristine beaches, and the world-famous Twelve Apostles, limestone pillars rising out of the Southern Ocean. Stop along the way to admire the breathtaking scenery and capture memorable photos.
5. The Twelve Apostles
Majestic Natural Wonders
The Twelve Apostles are a collection of limestone stacks that rise majestically out of the ocean along the Great Ocean Road. Despite the name, there are only eight remaining, as erosion has taken its toll on these impressive formations. Witnessing their grandeur up close is an awe-inspiring experience that will leave you speechless.
6. The Great Barrier Reef Marine Park
Diverse Marine Life
The Great Barrier Reef Marine Park encompasses the entirety of the Great Barrier Reef, protecting its delicate ecosystem and diverse marine life. Explore the vibrant coral gardens, swim alongside sea turtles, and encounter majestic manta rays. This wonderland of marine biodiversity is a must-see for any nature lover.
7. The Daintree Rainforest
An Ancient Rainforest
The Daintree Rainforest, located in Queensland, is one of the oldest rainforests in the world, dating back over 180 million years. This World Heritage-listed site is teeming with unique flora and fauna, including tree-dwelling kangaroos and rare cassowaries. Walk along the elevated boardwalks or take a guided tour to immerse yourself in its ancient beauty.
8. Bondi Beach
Australia's Most Famous Beach
No visit to Australia is complete without soaking up the sun at Bondi Beach. Located just a short distance from Sydney's city center, Bondi Beach is famous for its golden sands and world-class surf. Join the locals for a swim, catch a wave, or simply relax and enjoy the vibrant beach atmosphere.
9. The Blue Mountains
A Spectacular Mountain Range
The Blue Mountains, situated west of Sydney, is a stunning mountain range known for its breathtaking vistas and scenic bushwalks. The iconic Three Sisters rock formation is a must-see, and gazing out at the endless blue hues from Echo Point is truly magical. Explore the numerous hiking trails, waterfalls, and charming towns that make up this remarkable region.
10. The Whitsunday Islands
Tropical Paradise
The Whitsunday Islands, nestled in the heart of the Great Barrier Reef, boast crystal-clear turquoise waters, pristine beaches, and secluded bays. Take a sailing trip or a scenic flight to fully appreciate the beauty of these 74 picturesque islands. Whitehaven Beach, with its powdery white sands, is a highlight not to be missed.
Australia is a country blessed with an abundance of natural beauty and remarkable attractions. Whether you're exploring the underwater wonders of the Great Barrier Reef, marveling at the architectural masterpiece of the Sydney Opera House, or immersing yourself in the ancient rainforests, there's something for everyone in this captivating land down under. So pack your bags and get ready for an adventure of a lifetime exploring the top 10 tourist attractions in Australia.
Get Proof 2-4

JogjaPost Jogja News Today. Presenting a variety of interesting information both local Jogja, national and even international. Follow us on Google News and other social media.